Yet again Team India struggled against the Australian pace attack to go down losing. This time it was the 1st match of the Commonwealth Bank Tri-Series at the Melbourne Cricket Ground. India off to an excellent start with the new ball had Australia crawling until a 3-hour rain-interruption changed the complexion of the match altogether. The Aussies came back with all guns blazing to put up 216 for 5 in 32 overs in revised match conditions. India asked to chase a stiff target collapsed to 151 all out with Clint McKay taking four wickets.

The best bowler of the match Clint McKay who delivered the knock out punch to the Indians by removing the well set Virat Kohli and Rohit Sharma in the space of three balls!

Well here is how all the wickets fell in the Australia Vs India, ODI 1 at MCG, CB Series 2012 as recorded by Cricwaves.com :

Fall of Wickets in the Australian Innings : 1-15 (Warner, 5.1 ov), 2-19 (Ponting, 7.5 ov), 3-49 (Clarke, 14.4 ov), 4-122 (Wade, 22.6 ov), 5-154 (MEK Hussey, 26.1 ov)

Over 5.1 R Vinay Kumar to DA Warner, BOWLED HIM! Warner seems to be frustrated and he went for a needless slog across the line but only to get clean bowled by a pitched up inswinger from round the sticks!!

Over 7.5 R Vinay Kumar to RT Ponting, CAUGHT, Ponting moves back and punches it hard but in the air and the ball flies straight to Raina at short covers who takes a sharp catch! Ponting played at that too early and spooned it in the air therefore.

Over 14.4 RG Sharma to MJ Clarke, CAUGHT, Clarke steps out and whacks it flat in the air but straight into the safe hands of Rahul Sharma at deep wide mid wicket who holds onto a sharp catch!

Over 22.6 R Sharma to MS Wade, 98 kmph, BOWLED HIM, Wade moves back for a forcing pull shot but only to drag it back onto the stumps off a bottom edge!

Over 26.1 R Vinay Kumar from round the sticks to MEK Hussey, CAUGHT, Mike Hussey moves back and pulls the half tracker flat in the air but straight into the hands of Kohli at deep squareleg! Vinay has replaced Rahul.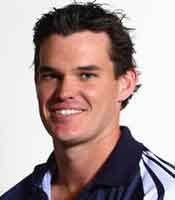 Fall of Wickets in the Indian Innings : 1-9 (Tendulkar, 1.5 ov), 2-13 (Gambhir, 3.3 ov), 3-64 (Kohli, 11.2 ov), 4-65 (RG Sharma, 11.4 ov), 5-77 (Raina, 14.2 ov), 6-114 (Jadeja, 22.3 ov), 7-120 (Ashwin, 23.1 ov), 8-123 (R Sharma, 23.5 ov), 9-128 (Dhoni, 25.2 ov), 10-151 (Kumar, 29.4 ov)
Over 1.5 Mitchell Starc to SR Tendulkar, CAUGHT, Sachin reaches out to a widish full delivery and drives it square and uppishly to Ponting at backward point who takes a low forward diving catch!
Over 3.3 Mitchell Starc to G Gambhir, CAUGHT, Gambhir goes back and is forced to nick this pacy and bouncy delivery to the Keeper! Superb fast bowling from the tall Starc, too good for Gauti!

Over 11.2 CJ McKay to V Kohli, CAUGHT, Kohli moves back and plays a smashing cut shot in the air and straight to Ponting at backward point who holds onto the sharp chance chest height!

Over 11.4 CJ McKay to RG Sharma, CAUGHT, Rohit goes back and is forced to nick this away going delivery to the keeper! McKay banged it in hard and got the ball to deviate away with the extra kick to surprise Rohit Sharma!

Over 14.2 DT Christian to SK Raina, CAUGHT, Raina doesn't get into a great position and attempts a predetermined pull shot. He miscues it tamely and Christian with the extra bounce has Raina lobbing it up to short mid wicket!

Over 22.3 CJ McKay to RA Jadeja, CAUGHT, Jadeja makes room for a slog pull and makes good connection to the short ball, but the ground is too big for him and its a nice sideways running catch taken by Michael Hussey around deep mid wicket.

Over 23.1 XJ Doherty to R Ashwin, RUN OUT, Ashwin pushes a wide full toss to deep backward point and settles for two but Dhoni forces him for a third run! The throw is back to the bowler from Christian in the deep and Doherty underarms it onto the stumps to run out Ashwin comfortably!

Over 23.5 XJ Doherty to R Sharma, BOWLED HIM, Rahul steps out making room to smash it over extra covers but only to miss a quicker full toss which strikes the stumps!

Over 25.2 XJ Doherty to MS Dhoni, CAUGHT, Dhoni gets forward and plays a smashing shot flat in the air towards wide long off where Warner runs to his left and leaps up to take a very good overhead catch!

Over 29.4 CJ McKay to PS Kumar, CAUGHT, Praveen moves back and plays a miscued heave towards wide long on where Harris runs forward and puts in a dive to take a low catch. So Australia defeat India by 65 runs in the 1st Match at MCG!