By BV Swagath
Already 0-1 down, the touring New Zealand team has received a huge blow ahead of tomorrow's Second Digicel Test at Jamaica. Former Skipper Daniel Vettori has been ruled out of the match with a groin strain. Vettori will be leaving to New Zealand following his injury.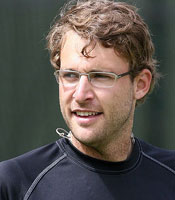 The 33-year-old Vettori has struggled with fitness issues in the recent past. In the 1st Test at North Sound, Vettori struggled bowling 51 overs and taking just the one wicket. Vettori will have to battle against time to get his fitness levels back as New Zealand will be touring India this month with the first Test scheduled on the 23rd.
Vettori's possible replacement for tomorrow's second Test is the 29-year-old leg-spinner Tarun Nethulla who is set to make his Test Debut. Nethulla has played 5 ODIs taking as many wickets since his debut in February 2012.