Following an absorbing day of Test cricket at Lord's, West Indies are in with a decent chance of winning the opening Test against England. Of course, the hosts will start as favourites going into the final day, chasing a modest target of 191. However, the West Indian fight back with both the bat and ball ensured that the game would not meander towards a predictable conclusion. Fighting knocks from Shivnarine Chanderpaul and Marlon Samuels and two late strikes by Kemar Roach would give them confidence going into the last day.
The knock by 86 by Samuels was the biggest plus for the Caribbeans on a day that epitomised Windies' ability to fight back. It was a crucial effort that could go a long way in reviving the talented Samuels' fledging career. He has been in and out of the side ever since the stigma of being involved in fixing. However, on Sunday at Lord's, in the company of the ever-reliable Chanderpaul, he found his bearings. It was a significant knock in the context of the game since there was not a lot of batting to follow, and the visitors weren't exactly in a position of strength.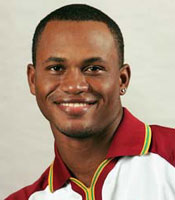 The impressive aspect of Samuels' resistance was that, unlike in some of his earlier knocks, he was ready to hold one end up and provide valuable support to Chanderpaul. The fact that he batted for 230 minutes and faced 172 deliveries was a clearindication of this observation. West Indies have been looking for batsmen to support Chanderpaul for a while now, and Samuels' latest effort was a step in the right direction albeit a small one. They now need the likes of Darren Bravo, Adrian Barath and Kirk Edwards to take leaf out of Samuels' book and come up with similar performances in the future games.
The Windies fight back also featured impressive knocks by skipper Darren Sammy and Denesh Ramdin. While the purists may lambast Sammy for his over-aggressive approach, it is also a fact that the skipper has had all his success playing a similar brand of cricket. His cameo was instrumental in West Indies extending their lead following the losses of Samuels and Chanderpaul. As for Ramdin's knock of 43, his effort was significant in more aspects than one. The visitors have failed to pin down on one wicket-keeper since both Ramdin and Carlton Baugh have failed regularly with the bat. This is probably Ramdin's last opportunity to establish his credentials. He has started well, but he will have to remain consistent throughout.
As the teams head into the final day of an absorbing Lord's Test, both England and West Indies would be confident of their chances. However, having lost two early wickets, the hosts would feel the pressure for sure. They are the number one team in the world, and losing at home to a low ranked team like Windies would be nothing short of an embarrassment. A couple of good partnerships would be the order of the day for England while early wickets will be the key to West Indies' fortunes.
By A Cricket Analyst