Match Report of West Indies Vs Australia, Day 4, 2nd Test at Queen's Park Oval, Port of Spain by Garfield Robinson
Rain allowed only 30.4 overs on today's fourth day of the Queen's Park Oval Test in Trinidad. Australia only required 4 balls to dispose of the West Indies' remaining wicket, and by the time play was stopped they were 73/3 and led by 127. With only one day to go the chances of victory for either side are slim, though Michael Clarke may feel that his side could still pull it off.
The feature of this shortened day's play was undoubtedly the fine fast bowling of Kemar Roach. He replaced Edwards after 10 overs and got wickets with his second and fifth balls. After lunch he had another and ended the day with 3 for 27 from 10 overs. He was the West Indies' lone wicket taker.
Baugh started the day by cutting Beer's third ball for 4. Next delivery he was out, sweeping…again.
The sweep shot to Carlton Baugh must be like cocaine to an addict. It endangers you, impoverishes you, destroys you even, but you keep going back for more. He had fallen to the sweep many times before. In fact, it is a surprise whenever he gets out by other means. And so perhaps the coach should require him to enter a sweep shot rehabilitation program to get it out of his system.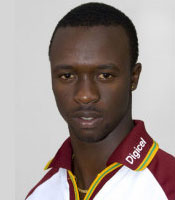 Warner started off the Australian innings in some haste, and counted 3 fours in scoring 14 before his partner got off the mark. In the sixth over, Edwards, who had opened the bowling with Shillingford, served up a ball short of a length to Cowan that he edged into Sammy's lap at slip and he dropped it. It was an easy chance that should have been accepted.
The pair had reached 26 when Roach struck. Bowling round the wicket he made Warner, 17, edge a good length ball low to Bravo at slip. Watson then came and aimed a big drive through the off side from the first ball he received. Two balls later his off stump was plucked out by a quick one that came in to him. Roach had taken 2 wickets in his first over and Australia was 26/2.
Ponting survived a run-out chance soon after arriving in the middle. Later, he was dropped by Bravo off when he lunged but didn't quite reach to the pitch of one from Shillingford and gave a difficult bat/pad chance to Bravo at short leg. Six overs later at 11:14, rain, always hovering over this test, forced the players from the field.
At around 12:50 play resumed and Roach continued to steam in. In his third over after the break, he bowled one full and fast to Cowan from round the wicket and had him dead in front for 20. One wonders why the batsman bothered to ask for it to be reviewed. It was hitting mid and leg halfway up.
Ponting in the meantime was beginning to find his range. Anything on his legs was adequately punished and he was now looking more fluent than he has since the series began. But at 1:35 the rains arrived again and that was it for the day.