With the ODI series against Australia all set to begin, England have named a balanced squad for the tough five-match series. While neither team will start as favourites, England would believe they have a decent chance of winning considering their great recent run, and also the fact that Australia drew the one-day series 2-2 against a weak West Indian side.
The good part for England begins right from their skipper Alastair Cook. Not long ago, there were a number of question marks as to whether Cook is fit to be a part of the one-day outfit, leaving aside leading the side. However, the English skipper has done incredibly well to prove all the critics wrong. While Cook isn't a flashy match-winning batsman in the one-day format, he has played around his limitations, and starred in a number of England wins in recent times. Cook's greatest asset as a limited overs opener is that he knows his role in the team perfectly. His job is to bat for most part of the 50 overs, and allow the big hitters to play around him.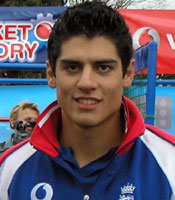 While Cook did that exceptionally well when Kevin Pietersen was around, it would be challenging for him to maintain the same without KP. Ian Bell has given them confidence, but whether he is in the same league as the swashbuckling batsman who has retired from ODIs is highly debatable. Speaking of Bell, he will have a key to role play in the team not that he has been earmarked as the replacement to Pietersen. He did come up with a splendid ton on his comeback to the 50-over version of the game, against West Indies recently. Still, the biggerchallenge for him will be to maintain his consistency, especially against tougher teams, and Australia is definitely one.
In the middle-order, England have some talented men, but the lack of experience could hurt them. In Jonny Bairstow, they have an exciting young talent, who took world cricket by storm on debut, but has done little of note since. The series against Australia will give England a better idea as to what to expect from Bairstow in the future. Among the others, Eoin Morgan will be under pressure. The left-hander has lost his place in the Test side following a number of vulnerable five-day games away from home. He will have to make sure he performs against Australia else his ODI spot could also come under a cloud.
Ravi Bopara, who has been troubled by injury in recent times, will also be keen to reestablish is place in the side. His big-match experience could prove handy for England in tense situations. Speaking of the bowlers, pacer James Anderson and spinner Graeme Swann will be the key again, but they would seek support from Stuart Broad, Steven Finn and Tim Bresnan.
Although England did not miss Pietersen much against West Indies, the series against the Aussies will give them a better idea of the gravity of the loss.
- By a Cricket Analyst