By BV Swagath
Born today on July 6th is Makhaya Ntini, one of the greatest bowlers in South African Cricket. Ntini today turns 35; yes it's an age in which lot of players would still be playing actively in international cricket. However, it's been three years already since Ntini had last played a Test Match or an ODI. In 2011, Makhaya Ntini officially bowed out of cricket after playing in his beneficiary T20I match against India at the Moses Mabhida Stadium in Durban.
Ntini made history when he became the first black player to represent South Africa at the highest level. The tall fast bowler came out of nowhere from a very modest background. Hailing from a village called Mdingi, Makhaya Ntini's raw talent was discovered in a Cricket development programme in 1993 at the age of 16.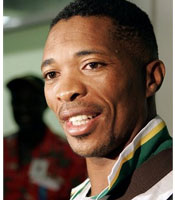 Once Ntini got some training in the sport, he went onto represent the South Africa Under 19s in which he played alongside another future great Mark Boucher and a couple of other future South Africa internationals on a 1995 tour of England. In 1998, Ntini made history by making his Test Debut for the Proteas against Sri Lanka at Cape Town in 1998. A couple of months back, Ntini made his ODI Debut against the Kiwis along with Mark Boucher in a Carlton & United Series Match in Perth. Makhaya Ntini became the first ever black cricketer to play for South Africa and since then quite a few have followed in his footsteps.
Just when Ntini was settling down in the South African team, came a deadly blow to his career as he was charged with raping a lady in a toilet at the Buffalo Park Cricket Ground in 1999. Facing a punishment of six years in prison, Makhaya Ntini, then 22 years of age, luckily got away from the alleged crime as there was no real evidence that could have nailed him. Ntini had been pleading innocence in the case and with some backing from the South African Cricket Board came out as a free man.
Ntini after surviving that huge blemish in his personal life had no looking back in his career. He started off as an open-chested fast bowler who was on most times bringing the ball back into the right handers. But with some experience, Ntini developed a few variations to taste success. Eventually, Ntini would go onto become one of the greatest bowlers in the history of Test Cricket as he finished his career with 390 wickets. Ntini played in 101 Tests and 173 ODIs along with 10 T20Is.
Ntini has 18 five-wicket hauls and 4 10-wicket hauls in his illustrious Test career. In ODIs, Ntini bagged 266 wickets with 4 five-wicket hauls. Makhaya Ntini was known to be an ever smiling, ever cheerful and an athletic personaility on the Cricket field. We at Cricwaves.com take this opportunity to wish him Many Happy Returns of the day!