Jamaican Marlon Samuels, who is playing for the Pune Warriors in the IPL 5 has been officially reported for chucking. Samuels has always had this suspect bowling action whenever he bowls the quicker ones. Like Pakistan's Shahid Afridi, Samuels does fire his quicker ones at incredible speeds of 120 kmph! Both these bowlers have been allowed to go through with their suspicious quicker ones all these years!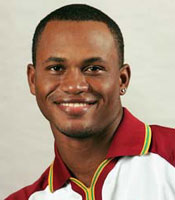 But in the IPL with a number of franchises involved and a lot of money at stakes, someone has finally taken the courage of taking up this case of Marlon Samuels bending his elbow for his quicker ones. Apparently, Samuels was reported to the IPL governing body by on-field Umpires Aleem Dar and Bruce Oxenford along with TV Umpire Vineet Kulkarni after Pune Warriors' match against Chennai Super Kings on the 14th of April. Interestingly during the match, an otherwise diplomatic Ravi Shastri during his commentary stint was mentioning about how dubious Marlon Samuels' action was while bowling the quicker ones.
The pressure now is on Marlon Samuels as he can continue to bowl as per the ICC in the ongoing IPL but should he be reported again for chucking then he will be in the danger of getting banned from bowling for the remainder of the season!