A lot was expected of West Indies in the one-day series against England even though they floundered in the Tests. After all, they drew the one-dayers 2-2 against Australia. Sadly, they have only managed to disappoint. After losing the opening ODI easily, they succumbed at the Kennington Oval in London as well without any resistance. The mood at the stadium was sombre following the sudden death of talented Surrey player Tom Maynard. West Indies, ideally, were to play a part in paying a tribute to the departed soul by coming up with an inspired performance. It wasn't to be though.
There were two key factors behind Windies' unsuccessful stint, Firstly, they couldn't get enough runs on the board despite half-centuries from Chris Gayle and Dwayne Bravo and a good knock from Kieron Pollard towards the end of the innings. The problem for West Indies was that they never managed to get any momentum into the innings for a consistent period. Gayle began slowly and accelerated with a plethora of sixes. However, his opening partner Lendl Simmons had a massive struggle, as a result of which the Windies innings never got going. Simmons played a strange knock, and consumed 50 deliveries for his 12, which accounted for a Test match-ish strike rate of 24.
It didn't help that Gayle fell immediately after passing his half-century. Considering Simmons' struggles, it was imperative that the left-hander carried on, but Alastair Cook's smart move of bringing in Graeme Swann paid rich dividends, as the latter trapped Gayle in front of the stumps. After losing a few more wickets quickly, West Indies did consolidate thanks to a strong counter-attacking partnership by the Bravo-Pollard duo. However, they failed to provide the finished touches to the innings, which meant that the visitors ended with a below-par total. Had Bravo or Pollard stayed around, the Windies could have crossed 250, but ended up way below that target, struggling in the last five overs.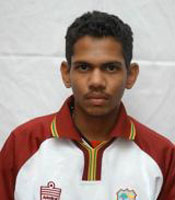 The second reason why West Indies failed to make an impact was due to the lack of penetration in the bowling department, in particular the ineffectiveness of Sunil Narine. The mystery spinner was expected to make a huge difference to the team's fortunes, especially against England who are poor players of spin. However, full credit to the Englishmen for the confident manner in which they have tackled him. Apart from Narine's failure to strike, the rest also did not make a significant contribution. Tino Best was all over the place while Ravi Rampaul was economical at best.
It was hoped that the addition of Gayle and Narine would make a definite impact. Alas, it has been the same old story, reiterating the obvious – that cricket is, at the end of the day, a team game.
--By A Cricket Analyst