Former India Test cricketer Sanjay Manjrekar turns 47 today. And like it has often happened with father-son duo of cricketers, the pressure of being a legend's son possibly never allowed Manjrekar to blossom at the international level. Having said that, Manjrekar himself did not help matters by being too caught up in his game. Many believed he had the talent to achieve what Rahul Dravid went on to, but took himself a bit too seriously, which severely impacted his game. As things panned out, the Mumbai batsman's career ended with an unfulfilled tag to its name. 2,043 runs in Tests at an average of 37 and 1,994 runs in ODIs, averaging just over 33.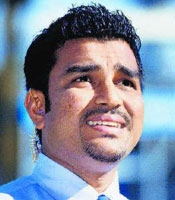 The main reason why Manjrekar never realised his potential at the international level was because he bothered too much about his technique. Yes, a good defence and the ability to stay longer at the crease is a must for succeeding as a Test player. However, batsmen must also remember that, in cricket, their primary job is to score runs. This is the aspect of his game where Manjrekar faltered, as a consequence of which his international career was cut short. He once batted for nearly nine hours in a Test against Zimbabwe for his 104.
Manjrekar had a good record away from home, credible for an Indian batsman of the 90's. Probably the fact that he prided himself on his technique egged him on to do well in tougher conditions. Unfortunately, this pride also brought about his downfall. Manjrekar, who had an excellent start to his Test career, scoring a ton against West Indies in Bridgetown and a double hundred in Pakistan, faltered on the bouncy pitches in South Africa and Australia. Ironic, because he had developed a technique to deal with such challenging conditions. But, as explained earlier, he never worked hard enough on scoring runs at a decent pace. What Manjrekar's knocks essentially did was eat up time without actually benefitting the team in terms of rune.
There was a stage in his career when Dravid's career seemed to be charting a similar path. When India toured Australia on the disastrous tour of 1999-2000, Dravid was hell-bent on occupying the crease irrespective of the situation, allowing the bowlers to dominate in the process. As a result, Dravid fell after spending hours at the crease game after game, but without having a substantial score against his name.
Like a great though, realising his flaws, Dravid altered his game just about enough to regain the path of success. His epic 180 at Eden Gardens renewed his career and he went one step ahead during India's tour to Australia that followed in 2003-04. The Indian number three's memorable efforts of 233 and 72 not out at Adelaide paved the way for one of India's greatest wins. It also ensured that Dravid did not go along the Manjrekar path.
So, while the Mumbaikar himself failed to live up to his promise, his career was possibly a perfect case study for Dravid.
--By A Cricket Analyst