By BV Swagath
The molestation and assault cases against RCB player Luke Pomersbach have been dropped! An out-of-court settlement has been reached by both the parties – Luke Pomersbach and an American lady Zohal Hamid. The Indian Media reports that Zohal Hamid and her fiancé Sahil Peerzada have now moved the Delhi High Court to quash their FIR against Luke Pomersbach.
With the matter now settled, Luke Pomersbach will be free to go back to his home country Australia. Pomersbach. Meanwhile, it is also learnt that Zohal Hamid, who had served legal notices to RCB Director, Siddharth Mallya for his outrageous tweets on her has now backed off in this matter as well.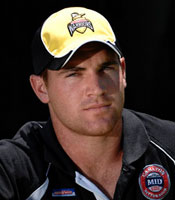 The Pomersbach molestation case was an episode that showed the darker side of the Indian Premier League. News broke out on May 18th that the Australian Cricketer, who is part of the Royal Challengers Bangalore, had been arrested by the Delhi Police for allegedly molesting an American woman and assaulting her fiancé. Pomersbach had to attend the court hearings and was later on released on bail. The case of Zohal Hamid on Pomersbach was weak and could not stand long as it would have been difficult to prove the molestation charges on the Cricketer.
The 27-year-old Pomersbach had an accidental T20I Debut for Australia in 2007. The left-handed Western Australia batsman got his golden opportunity when Brad Hodge got injured during the warm-up. The irony was that Pomersbach had come to the game as a spectator but ended up playing in that T20I against New Zealand.
Luke Pomersbasch hasn't been new to controversy at all. The southpaw has a history of having problems with his addiction to alcohol. The Delhi arrest incident wasn't also the first such experience of his life. In fact, he was arrested in 2009 in Western Australia following two hit-and-run incidents while driving in a drunken state. What was worse was that Pomersbach even went to the extent of resisting arrest by the Cops!