In the absence of their skipper Misbah-ul-Haq from the Test XI, owing to his ban over slow over rate, Pakistan looked all at sea at Galle. There is no guarantee that Pakistan would have won if Misbah had featured at Galle, but they would have put up a better performance for sure, for Misbah has the rare ability of getting his eccentric bunch of men to perform to the very best of their ability. After all, Pakistan have never lost a Test series ever since Misbah took over as skipper, and that says a lot.
Misbah's primary job at Colombo, where the second Test gets underway, will be to shore up the middle-order. Clearly, Pakistan missed their leader's assured presence out in the middle at Galle, especially in the first innings when their batting completely fell apart. Younis Khan tried his best to undo the damage in the second essay, but his workmanlike effort, and some useful support from Asaq Shafiq, wasn't enough for Pakistan have fallen way behind in the game by then, from where there was no way back up.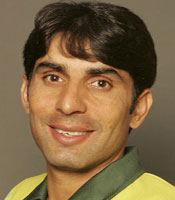 Apart from runs for Misbah and Younis, a number of things need to go right for Pakistan at Colombo if they are to maintain their recent unbeaten run. First and foremost, the opening combination needs to click. Any team that loses their openers early in a Test more often than not finds itself on the back foot. In Pakistan's case this is even more true, since they tend to explode inexplicably once they get off to a bad start. The Galle Test was the latest example wherein one batsman after the other kept taking the long walk back to the pavilion in spite of there being no demons in the pitch. Taufeeq Umar and Mohammad Hafeez must rise to the challenge if Pakistan are to compete. They have the experience, and there is no reason why they shouldn't deliver the goods.
The return of Misbah means Galle debutant Mohammad Ayub will have to sit out in spite of having done a reasonable job in his first Test. While Ayub would feel slightly aggrieved, Pakistan will only be benefited. Among the concern for the visiting side is their bowling form. Even as Saeed Ajmal helped Pakistan fight back in the first Test, Abdur Rehman managed just one wicket even whilst looking threatening. This would worry the Pakistan think-tank for sure. Also, but for the breezy burst in the second innings, when there was nothing at stake, Junaid Khan was off-colour. Misbah would be pondering whether to give him another go or try out Aizaz Cheema or Mohammad Sami instead.
Plenty of headaches; the only good news for Pakistan is that the aches rest on the reliable head of Misbah.
- By a Cricket Analyst